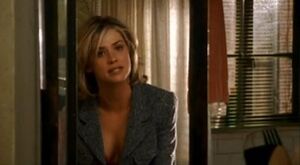 Sonny, you surprising me with a kid you adopted while I was away, wasn't what I said I wanted
-Vanessa.
Vanessa was first introduced as Sonny's girlfriend and later dumped him for a much older man, named Sid. She is last seen working at Hooters. Vanessa is played by Kristy Swanson.
Life before the film
Edit
It is unknown when Vanessa met Sonny, but it is clearly quite some time before the events of the film. It is mentioned by Kevin, Sonny's room mate, that the couple were very in love and that Vanessa worshipped Sonny.
However, at some point their relationship began to fall apart, proving the two weren't meant to be together.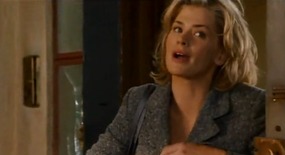 Vanessa is shown in the first scene, she wakes up next to Sonny and is clearly distressed by the time. She tells him that she is late for brunch with a client for her party-planning business. She becomes easily frustrated with Sonny's laid-back attitude to life, work and their relationship. She then leaves angrily, saying she needs to spend some time away from him, to allow them to think about the relationship.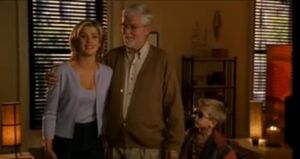 When Sonny decides to keep Julian to impress Vanessa, he visits her. However he finds out that she found someone else while she was away, a much older man named Sid. Sonny verbally abuses both of them and then leaves Vanessa with the message that she would miss him.
1 year, 3 months and 6 days later
Edit
Vanessa is shown to be working at Hooters, during Sonny's surprise birthday party. Sonny asks her about Sid's five year plan, to which she looks over to Sid, who is working at the grill. When Julian makes a comment about Sid, is that the guy with the old balls?, Vanessa storms away embarrassed.
Relationships
Edit
It is mentioned that Sonny and Vanessa's relationship was strong to start with, but somehow it began to fall apart and Vanessa moved away from Sonny.
Eventually, it was revealed that Vanessa found someone else, an old man named Sid.
Sonny last sees Vanessa at his surprise birthday party, when it is revealed that her relationship with Sid has led to her working at Hooters.
Sid:
Sid was introduced as the man Vanessa left Sonny for. He is considerably older than Sonny was. Sid was a very pleasant character and even after being insulted by Sonny, he is still rather pleasant towards him.
Sid is last shown working the grill at Hooters along with Vanessa.
Vanessa is one of three major characters in the film to never have her second name released, along with Sid and Sonny's friend, Mike. Whatever her surname is, it presumably begins with a "V," thus keeping with the "double-V" initials of key female characters in other Sandler films, such as Veronica Vaughn, Virginia Venit, and Vicki Vallencourt.